Damar Hamlin recovers from the "game of [his] life"
The Buffalo Bills safety appears to be on the road to recovery after an alarming scare last week
The Cincinnati Bengals and Buffalo Bills were set to face off against each other on Monday, January 2, in what was meant to be a heavily anticipated Monday Night Football matchup featuring two of the NFL's best teams, who were likely to meet each other again soon in the future in the playoffs. The rowdy and competitive environment inside the stadium between the players and fan bases of each team quickly turned silent and gloomy as Bills safety Damar Hamlin collapsed and went into cardiac arrest on the field early in the game after taking down Bengals wide receiver Tee Higgins in what should have been a typical play.
Hamlin quickly received aid from the Bills medical staff, who had to perform CPR on Hamlin after they discovered he had lost his pulse while still on the field. Bills trainer Denny Kellington was later publicly credited for his heroic acts as he successfully resuscitated Damar on the field. 
The scenes were eerily unforgettable, as viewers were continuously exposed to the visual trauma players and fans in the stadium were experiencing, and to players kneeling in prayer, along with players hugging teammates while covered in tears. Even with the volume muted, it was obvious that whatever it was that unfortunately happened to Hamlin was something that none of them have witnessed before, or even expected to witness on the field.
American football is known for being a sport for only the toughest of tough athletes because of the physical aspect of it and how hard some of these guys get hit on a weekly basis. It is so physical that injuries are unfortunately commonplace in the sport. An injury that would leave NBA or baseball players out for weeks is a common occurrence in football. This is not to say that basketball or baseball players aren't tough, but just to put in perspective the risk these NFL athletes put themselves in to play the game they love. 
After over an hour of not only NFL fans, but sports fans around the world, awaiting the news of the status of either Hamlin's health or what would happen with the game, the NFL officially postponed the game to a later date. This call by NFL Commissioner Roger Goodell would soon get upgraded to the game being canceled completely just days later. 
It was also around that time when it was announced that Hamlin was under critical condition and on life support in the University of Cincinnati Medical Center. After this news broke, a few fans from both the Bengals and the Bills soon gathered around outside of the medical center in support of Damar and the Hamlin family. This was just the beginning of the outpouring of love and support the Bills and the Hamlin family would receive throughout this rough period. 
In a show of solidarity, Cincinnati buildings changed their colors to blue and red, current and former NFL players tweeted in supports of Damar, news anchors prayed on live television for, all NFL teams changed their Twitter profile pictures to a picture that read "Pray For Damar" and almost every NFL player and staff member wore a shirt or hoodie that read "Love for Damar" before, during and after games last Sunday
There are not many things people can agree upon these days, and although it was through a devastating incident, it seemed like everyone in the country was pulling for this kid to pull through and recover from this tragic incident.  
Prayers were swiftly answered as it was announced that Hamlin was awake and able to communicate with others by nodding his head or writing.
"When he was communicating with us last night and again today, that has been in writing," said Dr. Timothy A. Pritts of the University of Cincinnati Medical Center in a press conference on January 5.
Dr. Pritts also reported that Hamlin's first question when he awoke was if they won the game: "When he asked 'Did we win' the answer is yes Damar, you won the game of life, and that's probably the most important thing out of this and we really need to keep him at the center of everything else that is going on."
As the days continued, the reports on Hamlin only got better as he continued to progress to getting back to the person he was prior to his injury. Hamlin began to breathe fully on his own as well as begin to speak to family members and the people around him. He even called his team on facetime as soon as he was able to speak.
The Bills played their first game since the incident this past Sunday against the New England Patriots.The jerseys worn by the players had a big "3" imprinted on the top right in honor of Hamlin. 
In the very first play of the game, Bills running back Nyheim Hines scored a 96 yard rushing touchdown off of the kickoff return. It couldn't have been written any better than that, the game commentator even called it "storybook." Hines actually did this a second time in the middle of the third quarter to give the Bills the 21-17 lead.
The Bills scored once again early in the second quarter as Josh Allen threw a touchdown pass to tight end Dawson Knox, who immediately turned to the nearest camera, held up three fingers along with his teammates, then held up a heart as he said "Love you buddy" and pointed to the camera. The best part of this interaction was Damar immediately taking to twitter to say I love you too. The Bills went on to win the game 35-23 and finished their season with a 12-3 record. 
ESPN reporter Dianna Russini reported that the Bills facetimed Damar just minutes after the victory. She also reported that Bills DB Trey White said "Hamlin sent a text recently at 2:30 in the morning checking in with his teammates and apologizing for putting them through all of this, to which head coach Sean McDermott said, that's exactly the kind of guy Hamlin is, apologizing when we all know that's not what he needs to be doing."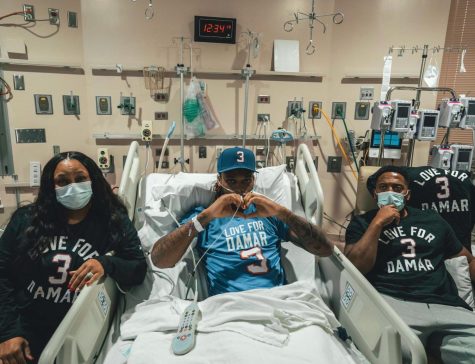 Reports came out this Monday that Hamlin has been released from the Cincinnati Hospital he has been recovering in, and he is being transferred to another hospital in Buffalo to further recover and get closer to being who he was prior to the game. 
"Dr. Pritts and I have spoken extensively with his care team in Buffalo, and I can confirm that he is doing well, and this is the beginning of the next stage of his recovery," said Dr. William Knight. 
Bengals head coach Zac Taylor was asked about his reaction to Hamlin being transferred to a Buffalo Hospital in his news conference Monday afternoon. 
"That's unbelievable… I mean think about it, that was not even a week ago, there is no one in this room that would've expected he would be in Buffalo, what we saw even Tuesday morning," Coach Taylor said. "God is great, he works miracles, this is certainly a miracle, there's no question."