Not in the forecast this winter: snow days
With climate change and the rise of virtual learning following the pandemic, are snow days a thing of the past?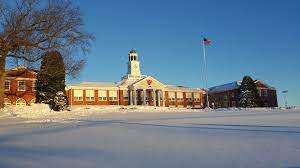 In early 2022, the NJ Senate considered Bill 464, which would permit NJ schools to use virtual schooling in the event of a snow day. The bill was then passed by the Senate with a vote of 39-0 in March of 2022. A couple days later, the bill was then referred to the Assembly Education Committee. 
New Jersey has brought a warm winter this year, leaving school students without the hope of a snow storm to bring them a day off. Snow days haven't been a possibility this winter, and they may never be seen again.
When schools have virtual learning on snow days, they are able to complete their 180 day minimum requirement in less time, leaving students with a longer summer. Many RV students have opposing ideas on this. 
 "I think if it means that we may not have to make up a school day in the future, then it is worth it," said junior Sabrina Paz.
The idea of a snow day has been around for decades and a lot of students look forward to playing in the snow, having hot chocolate, and having the opportunity to sleep in. Having online school all day during a snow day takes away the excitement for children in New Jersey.
"I think if it's a snow day, we should be able to have a nice mental health break," said junior Olivia Doppler. "We shouldn't have to have online school because they should give students the opportunity to go outside and spend time with their friends."
RVRHS now has the opportunity to take away snow days to replace them with virtual learning days. The excitement that winter weather brings might be gone with this new law, but summer will be right around the corner.