Met gala honors legendary designer Karl Lagerfield with a variety of designs
This year's Met included big names and a variety of feline designs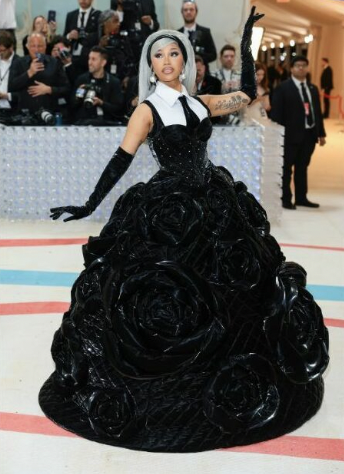 The Met Gala, one of the fashion industry's biggest annual event, took place on May 1 and was held at New York's Metropolitan Museum of Art. This year, the Met honored Karl Lagerfield who is the late designer of fashion houses such as Chanel and Fendi. Lagerfield passed away February 19, 2019 and his legacy was celebrated at this year's Met with the theme "in honor of Karl," meaning that everyone was to partner with a designer who designed an outfit inspired by one of Lagerfield's signature designs. Some of these include the Chanel tweed patterns along with the black and white color pattern. 
Some of the attendees at the Met this year that you may know included Kylie Jenner, Rihanna with A$AP Rocky, Cardi B and Gigi Hadid. These are only a few celebrities who attended and there were many others following. 
Looking at everyone's outfits, Kylie Jenner's definitely stood out above most. She attended this year in a red one sleeve dress with a train that then turned into a jacket. The underlining of the dress was sky blue made out of what looked like silk. While most attendees showed up in black, white and neutral colors, Jenner stood out with the bold red. Jenner partnered with Jean Paul Gaultier for the design of her Met outfit this year. 
In my opinion, Cardi B had one of the best outfits of the night. RV junior Nayomi Angueiro agrees, saying, "I think Cardi B looked good because she's able to look formal and classy while staying on trend and on theme. She's just very fashionable."
Cardi B, who partnered with Chenpeng Studio, wore a black and white themed ballroom dress this year. The corset part of the dress was diamond studded and had a black tie with white collar to note Lagerfield's classic uniform. The lower half of the dress was filled with 3D flowers of different sizes made out of what seemed to be a latex kind of material. Cardi then paired the dress with long, half- sleeve black gloves and a gray wig. She wore a black headband in the wig as another note to Lagerfield to give the back of it dimension. Cardi's look was a very popular one, one that many thought fit the theme and had lots of thought put into the design of it. 
Doja Cat can definitely be accredited to having one of the most memorable outfits this year. Doja Cat, who partnered with Oscar de La Renta, walked the carpet with an all white, backless dress, with a feather train. Doja created her dress around Lagerfield cat, Choupette, and meowed her way across the carpet. She also created a cosmetic mask like the face of a cat to complete the look. Doja decided to be very on brand with both the theme and her name. There were many mixed emotions and feelings on Doja's outfit of choice. 
The Met is a way to bring influencers together and celebrate icons in the fashion world. Without the Met Gala, the fashion influence would be missing such a monumental milestone. The money raised goes towards the Metropolitan Art Museum in New York City. Individuals look forward to attending the Met each year and the themes of the event. The Met is used to be a huge fashion statement to produce designer pieces from all around the world.