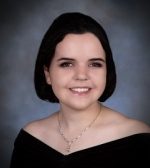 "Coming out of my shell": Rebecca Walter, Arts & Culture writer
Sometimes, I catch myself thinking back to my freshman year, when I was an anxious 14 year old determined to not stick out. Fortunately for me (and perhaps unfortunately, to those who would become my friends), I ditched this way of thinking as COVID rolled around.
Joining clubs was a gargantuan task, and one I mostly put off. I didn't join the Holly Spirit until my junior year and I was delegated as a writer for the News desk. My post-remote, anxious self mostly sat in silence through desk meetings, watching other people pitch and write articles from what felt like miles away. I didn't write much, but I enjoyed it, changing to the Arts and Culture desk to finish my time at RV.
One big thing that made joining the A+C desk easier was the sheer amount of people I already knew. I was so paralyzed with the fear of trying to make new friends that I hadn't realized I wouldn't really have to. 
Not to say I haven't met new people through the Holly Spirit—Alex and Janji come to mind first. The environment of desk meetings; pitching ideas to everyone, everyone talking about their articles and plans for the weekends, is unforgettable. Joining the A+C desk was definitely a highlight of my senior year, and I wrote a bunch of articles I was and am proud of. 
A piece of advice for new writers: power through the first draft because it's always bad. There will always be things you missed, better ways to phrase points, better ways to order ideas. People aren't going to laugh at you behind your back if your article is well thought out and makes sense. Put all of your effort into the first draft, but not into formatting and the optimal progression of ideas. Editors exist for a reason, and it's not to fix spelling mistakes. 
All this to say that I had loads of fun writing for this club, and I'll always remember how it encouraged me to come out of my shell. 
Donate to The Holly Spirit