Courtside with Aaron is a regular column that focuses primarily on professional basketball…but we let him have this rant.
From the moment pop musician Taylor Swift and Chiefs tight end Travis Kelce were rumored to be dating, the NFL has been treating their relationship like it is the best thing since sliced bread. 
"Swelce" rumors began in late July when Kelce revealed on his podcast "New Heights with Jason and Travis Kelce" that he attempted to give Swift his phone number.
"If you're up on Taylor Swift concerts, there are friendship bracelets, I received a bunch of them being there, but I wanted to give Taylor Swift one with my number on it," said Kelce. 
Kelce was then asked about it in early August during an interview at Cheifs training camp.
"I'm not gonna talk about my personal life, I know what you writers wanna hear, you wanna hear more about that and I'm not gonna give you anything," he said. 
Just a few weeks later, Philadelphia Eagles center Jason Kelce and the Birds defeated the Minnesota Vikings in their week two Thursday Night Football game. During a postgame interview, Jason Kelce was asked about the Travis and Taylor rumors, to which Kelce replied "I've seen these rumors, I cannot comment on them." 
After months of speculation, it became clear that the two were in a relationship, especially after the world saw Swift attend the Chiefs game in the Kelce family box celebrating after every play with Donna Kelce, Travis' mother, during the Cheifs' week three win against the Chicago Bears. 
Now, I do not have a problem with the fact that the two are in a relationship, nor do I have a problem with her attending games. 
However, if she cannot attend a Chiefs game without a camera being on her 24/7 and cutting to her reaction after every single play, then I'm against her going.
I want to watch a football game, not Taylor Swift jumping around like she just won the lottery every time the Chiefs score. 
I remember going on Instagram the next day, and every other post was Swift at the Chiefs game. It got to the point where I was so annoyed, I just stopped going on Instagram for a little while because it was constantly getting shoved in my face — which is a big deal for me.
The crazy thing is that the majority of people who watch the NFL on a regular basis feel the same way, even Kelce. On the "New Heights Podcast," Kelce said it himself that he thought the way the media has been dealing with the situation is too much.
"They are overdoing it… especially my situation," he said when talking about spotlighting celebrities attending games. 
However, the media and NFL are eating it up, and rightfully so. According to NPR, the NFL saw nearly a 400% increase in Travis Kelce jersey sales throughout the Fanatics shop and NFLShop.com.
And yes, I'm sure that the NFL is garnering more viewers throughout their social media pages because of the "Swiftie" audience. However, there is a limit, especially when you know that it is becoming annoying to majority of your audience. It should not have gotten to the point where the official NFL's twitter profile header was a combination of picture of Taylor Swift.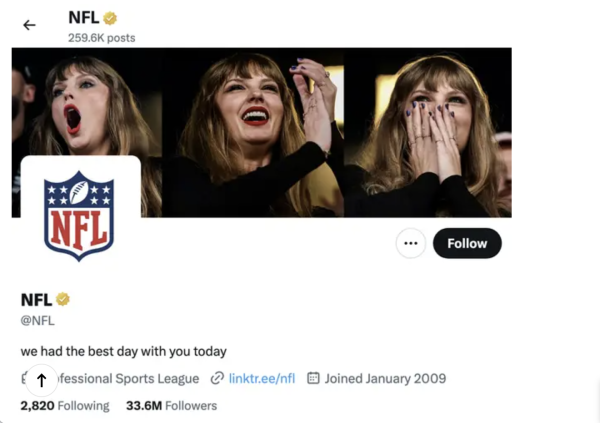 It has even got to the point where you have people on Twitter (or X, or whatever you call it now) announcing whether or not Swift is going to be in attendance for the Chiefs games.
That's not to say that good things haven't come from it, because there have been. It has become a Tiktok trend for girls to tell their boyfriends that Swift is going to put Kelce "on the map," and then the boys would get upset and have hilarious reactions. Or the Kevin James meme captioned "You cannot just show Taylor Swift all the time during the game" directed at the NFL.
Yes, there have been some funny things that have come out of it, but it's getting out of hand. 
It's too much at this point, it's being overdone and nobody enjoys it besides the people who are profiting from it (like the NFL, which is now hiking up ticket prices for Chiefs games. Thanks Taylor!).
So Taylor, Ms. Swift, whatever you want to go by: maybe take a break tonight from the Cheifs-Denver Broncos game, and go do something else, so those of us who actually watch football can enjoy it?