After an entire summer of staying up until 1 a.m. every Thursday night waiting for this album to drop, and then some, the 6 God finally dropped his highly anticipated album "For All The Dogs" at 6 a.m. EST on October 6. 
Drake first announced the album on June 24, just a few hours after the release of his first poetry book, "Titles Ruin Everything: A Stream of Consciousness." Along with the book, Drizzy launched a one-page website, titlesruineverything.com, which is where he announced and confirmed his next album "For All The Dogs." The one-page website contains a white background with text that reads: "I made an album to go with the book. They say they miss the old Drake girl don't tempt me. FOR ALL THE DOGS."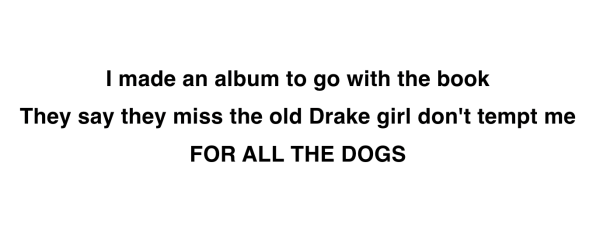 This would not be the only time Drake advertised his album as a throwback album, or an album that would show glimpses of Drake's old school style, as he repeatedly teased the "old Drake" during his "It's All A Blur" tour. 
However, I will agree with some of the accusations of false advertisement, or underwhelming criticisms. We were practically promised "old Drake" from Drake himself, and although I don't think it's fair to say that we didn't get that at all, I do think it is a fair assessment to say that there was very little "old Drake."
"It was pretty good," said junior Will Murray. "It got better the longer I listened to it."
One of my favorite songs on the entire album, "Tried Our Best," was an example of the classic Drake of which a lot of people wanted an entire album. In this track, Drake found the perfect balance between R&B and rap, which is what we all fell in love with Drake's music for: his versatility and ability to be great at both genres within a song.
Unfortunately, not many other songs on the album replicated the sound and feel of this track. 
As a matter of fact, I would say that while I was listening to some of the songs on the album, I caught myself thinking that some of the songs sounded like they were made to cater to this generation of music; however, this can be seen as both a good and bad thing. 
An example of this would be "Rich Baby Daddy (feat. Sexxy Red & SZA)". In my opinion, this song sounded amazing and had the potential to be a classic and possibly the best song on the album. However, this track featured Sexxy Red, who ruined the whole vibe and tone of the song. She started off the song explicitly screaming in my ear, setting my expectations low for the song seconds in. Then, we heard Drake come in and essentially saved the song, his flow and sound were fantastic, and I was not expecting Drake to come onto the song in that way. However, good things don't last forever, and Drake's verse could only go on for so long. Then Sexxy Red came back into the song and again made my ears bleed.
And I don't want to come off as a hater, but the song would've been ranked a little higher on my list had the hook been the sound of nails on a chalkboard instead of Sexxy Red.
SZA came on with a similar flow to Drake, the two complimenting each other amazingly once again, similar to the way they did on "Slime You Out," which was a top 5 song for me.
Another example of Drake catering to today's audience would be "Gentle (feat. Bad Bunny)." On this track, Drake went full espanol alongside Bad Bunny and it was amazing. Despite not understanding much of what they were saying, even though I passed Spanish I and II, it sounded legit. They complimented each other well, the beat was nice, making it an instant hit. 
This album also featured a timestamp song, which is always a good thing to see on an album considering almost all of Drake's timestamp songs have been great. Whether it's "5 Am in Toronto," "6PM in New York" or "4pm in Calabasas," "8am in Charlotte" is up there with the best of Drake's timestamped songs. 
The best song on the album for me was his song with J. Cole, "First Person Shooter." This was the first time Drake and Cole collaborated on a song since Jodeci Freestyle on Drake's 2019 album "Care Package," and it was an instant classic. The two seemed to be battling each other on the song to see who truly is the better artist currently, but weirdly I think it brought out the best in both of them and made for an amazing song. 
"The only songs I've gone back to the album to listen to were the one with J. Cole ["First Person Shooter"] and the Yeat song ["IDGAF"]," said Murray. 
That's the one song I didn't particularly enjoy on this project was "IDGAF (feat. Yeat)." And I'm not trying to disrespect Mr. Yeat, but I've never been a fan of his music or the style of music he makes. However, I have always understood why people would like it, but it's just not my cup of tea. In this song, Drake seems to be trying to mimic Yeat's style, which wasn't awful, but it's not something I would put on my playlist. 
"The Yeat song was the best on the album" said Junior Daivik Pandya. "Yeat carried him."
Overall, the album was pretty solid given that this would be his third album in 16 months, with "Honestly, Nevermind" dropping in June of 2022 and "Her Loss" dropping in November of '22. This project had at least one song that fans of every genre will enjoy, and I feel like that is something we take for granted. Just because you had high expectations for something and it didn't meet or fulfill all of those expectations does not make the album a bad project.
And even if it was a "bad" project, a bad Drake album is still better than a lot of the projects many other artists are putting out today.  
Enjoy the song rankings, from best to worst, below.
First Person Shooter (feat. J. Cole)
Tried Our Best
8am in Charlotte
Another Late Night (feat. Lil Yachty)
Slime You Out (feat. SZA)
What Would Pluto Do
All The Parties (feat. Chief Keef)
Amen (feat. Teezo Touchdown)
Bahamas Paradise
Gently (feat. Bad Bunny)
Rich Baby Daddy (feat. Sexxy Red & SZA)
Daylight (feat. Adonis)
BBL Love – Interlude
Away From Home
Drew A Picasso
Virginia Beach
Calling For You (feat. 21 Savage)
Polar Opposites
Members Only (feat. PARTYNEXTDOOR)
Fear of Heights 
7969 Santa (feat. Teezo Touchdown & Snoop Dogg)
IDGAF (feat. Yeat)
Screw The World Interlude