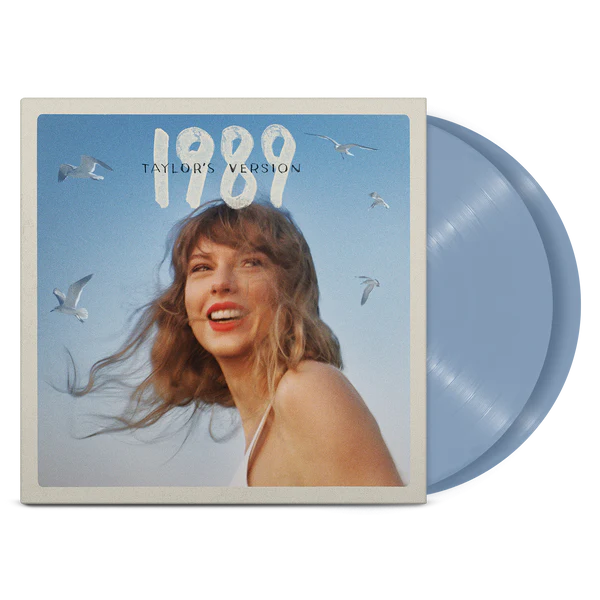 Taylor Swift's album, "1989," catapulted her into pop stardom from a country singer, and as of October 27, it's back again with five new tracks.  Millions of Swifties are rejoicing in the absolute masterpiece that is "1989 (Taylor's version)" with Swift teasing her audience by releasing the title of the vault tracks beforehand. 
 I was very excited for the release, as the songwriting in her songs is second to none and the songs are always catchy and emotional to a fault, and I'm not alone. Swift has been in the spotlight even more than usual, and it seems that even people who don't listen to her music know her. Through her loyal fanbase, star studded tour and movie, those who don't know Swift are clearly familiar with her. 
The album cover is absolutely beautiful and is my new favorite, tied with the "Speak Now" cover. It totally captures the vibe of the album (like New York beachy type feel) and revamps the vibe of the original album. I love it and no one can tell me that it isn't the perfect aesthetic cover that "1989" deserved.
The songs
Of course we all have  songs we know and love from the album, so I won't be spending too much time on the songs that are rereleased, however, I will include them in the ranking below. But, I will be going into depth about the five new tracks from the vault.
Overall, the songs are on the slower side, and they overall give a "Midnights" (her latest album) vibe as well. Three out of the five songs are slower, and out of the other two, "Now We Don't Talk" is moderately upbeat and "Is it Over Now?" is pretty upbeat.  While this is something that I liked, as I do appreciate slower, emotional songs from Swift; if that isn't your thing, the new tracks might not be for you.
"Sl*t!"-(10/10)
My favorite from the vault tracks and one from the entire album,"'Sl*t'" is about Swift's reputation in the media when she had released the album back in 2014, where the media was painting a negative image of her. The song is slower and reminds me of a mix of "Paris" and "Mastermind" from Midnights in terms of other songs. It perfectly captures a light and airy kind of feeling. It evokes the feeling of a 2000s-2010s rom-com, in one of the scenes where the main characters fall in love. I personally enjoyed the song very much, as I did with all of the songs from the vault. 
Say Don't Go- (8.75/10)
"Say Don't Go" gives me a little bit of a "Fearless" vibe but overall is still very pop. It's about trying to communicate in a relationship, while the other person puts in no effort at all. This is a scream in the car when you're angry song; which I appreciate. I really liked the track, but personally I enjoyed the other tracks on the album better than "Say Don't Go." 
Now That We Don't Talk- (9.75/10)
"Now That We Don't Talk" is the most upbeat song of all of the vault tracks. It's catchy and pretty fast. It's about dealing with a breakup and missing the person who you had ended the relationship with, but ultimately trying to move on. A perfect blend of catchy and emotional, Swift has crafted the ultimate sing in your bedroom type song. This song also gives me "Midnights" vibes and I really enjoyed it. 
Suburban Legends- (9/10)
"Suburban Legends" is for the hopeless romantics who keep chasing love because they feel that their relationship is bound to be a success. The lyrics are emotional and heartbreaking, as many of Swift's songs are and shows how masterful Taylor Swift is at writing heartbreaking verses. If you need another song to put on your sad song playlist, then reserve a spot for "Suburban Legends" because it's heartbreaking.
Is it Over Now?-(10/10)
"Is it Over Now?" is about grappling with a relationship ending and the experiences that they had shared. This is one of my favorite songs off the album, as it was upbeat and is the perfect example of Swift's ingeniousness when it comes to songwriting. This song is great for an angry scream playlist, because it's so catchy yet portrays the feeling of melancholy so well. I highly recommend the song and really enjoyed it. 
The Rankings 
You Are in Love (10/10)

"Sl*t!" (10/10)

Is it Over Now? (10/10)

Wonderland (10/10)

"Out of the Woods (10/10)

Now That We Don't Talk (9.75/10)

New Romantics (9.75/10) 

Wildest Dreams (9.5/10)

I Wish You Would (9/10)

Suburban Legends (9/10)

 This Love (9/10)

Style (8.75/10)

Blank Space (8.75/10)

Say Don't Go (8.75/10)

Welcome to New York (8.75/10)

How You Get the Girl (8.5/10)

I Know Places (8.25/10)

All You Had To Do Was Stay (8.25/10)

Bad Blood ft. Kendrick Lamar (7.75/10)

Shake It Off (7.75/10)

Clean (7/10)

Bad Blood (6.5/10)