The return of homecoming extravaganzas
As the 2021 Homecoming events come to a close, students and class advisers reflect on the events and festivities of this year
After a year of COVID-19, the memory of homecoming faded for the majority of the Rancocas Valley student body. Homecoming is a tradition shared in many high schools, colleges and educational institutions across the nation. It is a series of events that typically take place over a set number of days to promote school spirit and the joy of returning to classes. At RV, staff, students and the community are brought closer together through festivities like football games, dances, skits, poster painting and more. Every year at homecoming, each grade level competes in various events that award points for posters, floats and skits.
In addition, every year there is an overarching theme to which each grade level is assigned a topic. RV took it to the cities for the 2021 Homecoming festivities. 
First and foremost, there are posters. Each grade is responsible for painting numerous pieces of art that will be used to decorate the downstairs A-wing with their assigned topic.
Then, there is a float. Students help "pomp" wooden structures with colored tissue paper, resulting in a theme-related float. This year's juniors, for example, created a backdrop of the TCL Chinese Theatre in Los Angeles. Normally, these floats ride through the parade, but this year they were parked at Devil's Plaza.
Lastly, a skit, which is a dance routine mashed up with various segments of iconic tunes, whether it be from a song or film. All these various activities are scored by teachers based on the outcomes.
Each class earns points based on their placement in four different categories. Hallway decorations are worth 35 points, structure/backdrop are worth 30 points, skits are worth 25 points and the class t-shirt design is worth 10 points. The maximum number of points is 100 and, this year, the seniors won with 95 points, followed by juniors with 88, the sophomores with 73 and the freshmen with 59.
 "I didn't have time to attend most of the events but it was still enjoyable to see my classmates' hard work pay off," said Junior Ryan Smith. Homecoming can be exciting but also stressful for those who are involved in other extra curricular activities. So, the Holly Spirit went ahead and interviewed the class advisors that are responsible for each grade level. 
Ms. Knoell and Ms. Caputo, senior advisers, spoke about the seniors' efficiency with the posters, skit and float. "I'd say it was fairly productive," said Ms. Knoell. "We made sure we did not start practicing the skit until we had completed a portion of our structure. Posters were a little rougher, but on the night of hallway decorating, we were able to crank out a bunch of posters and hang them up."
Many students are extremely busy during the fall semester due to sports, clubs and activities, jobs, schoolwork and, of course, Homecoming. The senior advisers discussed how these hectic schedules can have both advantages and disadvantages depending on the circumstances.
"Because of the pandemic, we missed a year, so we had to kind of hype people up again this year, which was difficult," said Ms. Knoell. "Especially with classes and everyone being older and having jobs, it was a bit of a struggle. Because of sports, jobs, and other school activities, we didn't have a lot of people come out this year." 
 Although it has many disadvantages, the busy schedule also carries some benefits. "A lot of stuff is after school so students couldn't show up until 7:00 [p.m.]," said Ms. Knoell. "We also had our float site changed so at first no one knew where it was but it ended up being better with seniors being able to drive. Another advantage would be kids playing on sports teams together so they would all go to practices together and motivate each other to attend."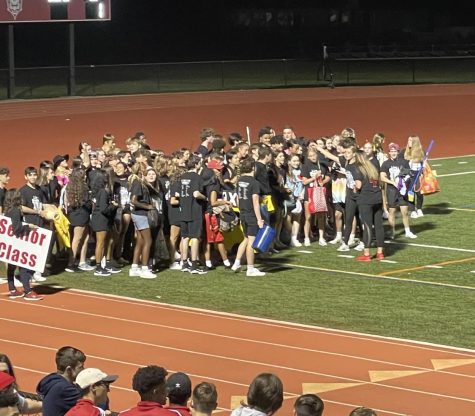 Junior class adviser Mrs. Gray discussed the workload taken on by the students and the commitment they poured into homecoming. "A lot of our structure work happened over the long weekend, and it did require very long hours," she said. "We structured for more than 5 hours per day that weekend. Depending on the grade level, the skit practices can be a little difficult. Finding rides back and forth for freshmen and sophomores can be difficult, whereas juniors and seniors can be difficult because these kids have jobs and are involved in a variety of activities."
Mrs. Gray made it her goal to make sure that everyone who wanted to participate had enough notice to be able to do so. "I create a very detailed calendar that I post for the students and the kids receive the calendar and have time to figure out when they can and cannot make it. With work and such, I made sure to give the kids at least two weeks notice so they had time to tell their employers and make the arrangements needed…For me, my students know that I would rather them place lower as a score and do all their own work and keep their integrity."
Mrs. Searfoorce, sophomore adviser discussed the sophomores' efficiency stating that she approached all three tasks as a time management exercise. "Because this is my first year as an adviser, I wanted to spend as much time as possible with all three."
Furthermore, Mrs. Searfoorce explained that the students planned, coordinated and organized the skit all by themselves.
"They really took the lead and created an awesome skit," she said. "I had 100% confidence and trust in their abilities and was really happy with the way their performance was executed on the field. Their enthusiasm and desire to create something awesome was evident and by allowing them to manage the group, they proved that they are both talented and mature beyond their years."
Freshman advisors, Ms. Taffet and Ms. Toner explained that the float and skit were more efficient than posters because there was a stronger turnout for those events. "They delegated work more easily and got more done in lesser amounts of time with the bigger turn out," said Ms. Taffet. "Seemingly, the freshman pulled things together despite facing conflicts with other commitments and activities."
Despite the increased stress caused by these homecoming events, hard work has always proved to be rewarding. This year's homecoming was a great way to kick off the new school year, thanks to the class advisors and student bodies. The return of homecoming activities promises a better outcome for future homecomings.
"Now that I have a better understanding of the entire process, we're really fired up for next year," said Mrs. Searfoorce.