RAWN: Relaunch Team
As RAWN prepares to make its return, The Holly Spirit reached out to members of the Relaunch Team to gain insight into the team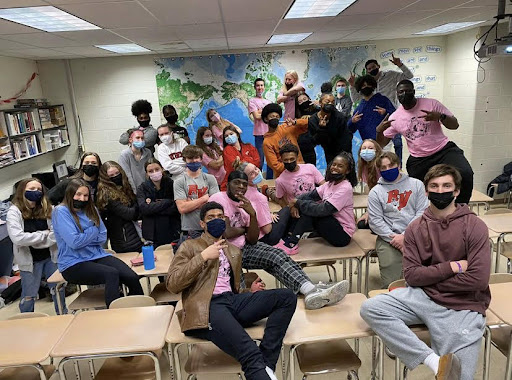 As Red and White Night prepares to make its return to RV, the advisers have enlisted the help of a relaunch team. Originally composed of only seniors, the team has since expanded to include all grade levels. The Holly Spirit reached out to seniors Devon Creelman and Alex Pratt of the relaunch team in order to gain insight into the team.
The RAWN Relaunch Team is "a group of freshmen, sophomores, juniors and seniors trying to bring back the energy and excitement of Red and White Night," said Creelman. "We are trying to get everyone super pumped and hyped about what is coming in March."
This group of students replaced the captains customary to past RAWN events. This new style of leadership seeks to bring together RV no matter what team you will be competing for on March 25.
As seniors, Pratt and Creelman both have been able to experience one Red and White Night event at RV. They witnessed not only how fun and exciting RAWN is, but how it brings together the RV community.
 "I joined the Relaunch Team because I wanted to be involved in something that can bring the school together. I wanted to participate in something fun, but something truly meaningful during my senior year," said Creelman.
Pratt had a similar motive behind joining this team.
"Originally I applied to be a part of the relaunch team after I talked to Mr. Heiser about the exciting vision for this year's Red and White night," he said. "The way he described it made me really excited for this year's RAWN, and that made me want to be a part of it on a higher level."
Red and White Night strives to create not only a competitive environment at RV but an opportunity for students to come together and truly experience the camaraderie and community that RV has to offer.
The Relaunch Team applications for seniors were open at the beginning of the year. With multiple months together, the team has been able to get to know one another and truly make the event their own.
"I love building relationships with people," said Pratt. "That was something I didn't realize at first back when we started in October, but now I love talking to people about RAWN and seeing what they think about it. Also, being able to craft and create RAWN in our own image is so rewarding." 
Although there are no longer any opportunities to join the Relaunch team, there are many ways to still get involved.
"For anyone that is interested in getting involved, just show up. We are having poster tracing at  the end of February and will start poster painting next week, so show up to posters, talk to people in the relaunch team, and follow our Instagram," said Creelman. 
With Red and White almost a month away, the relaunch team is preparing to make this event the best one yet. Between poster tracing, grade room competitions, and the event in March there are ample opportunities to get involved in this year's Red and White Night. The relaunch team urges everyone to get involved and reach out with any questions as the beloved event draws closer. Be sure to follow along as the Holly Spirit continues to cover upcoming RAWN events.