RAWN: the events
With RAWN approaching the beloved tutorial and after school events are back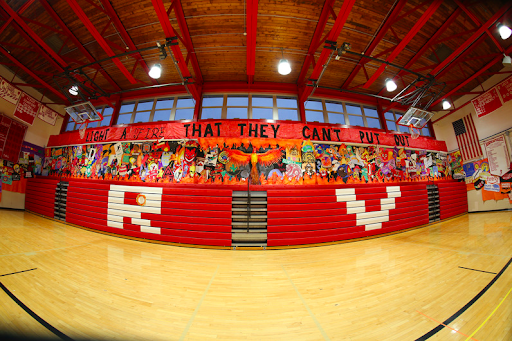 After a flash mob on February 4 that caught the attention of the student body, the relaunch team continues to reignite the experience of Red and White Night that many have yet to participate in. 
Typically, on the night of RAWN, the artwork lining the gym has been known to stand out. So, the relaunch team began poster tracing– to decorate the gym– during blocks three and four for all students to get involved. The Holly Spirit gained more details of the behind-the-scenes from junior and RAWN relaunch team member, Brenna Delgado.
Considering that the seniors are the only grade to have experienced a RAWN, Delgado said "the RAWN poster tracing was really overwhelming at first because we had so much to get through and only one person on the team had ever actually done poster tracing so it was sort of a mess. The tracing has been pretty much exclusively the relaunch team, although a couple of other students have helped us trace posters."
But despite the low numbers of students at poster tracing, poster painting has been a lot smoother.
"Once we reach painting, most of the work is done and we've had a lot of support from the student body at painting nights," Delgado said.
Music, friends and art; posters have always been a relaxed opportunity to help out your team no matter your artistic skills. What's special about RAWN is that it is a collective effort from all grade levels and posters exemplify that hard work through unity. 
Additionally, the tutorial and student prep events for Red and White Night have officially started, which means the competition has as well. During these tutorial games, the two teams go against each other in an abundant amount of events. These events include Mat Ball, Categories, Wallball, Checkers, Charades, various trivia games and so much more. The events are a great way to get students involved and have fun during times that they normally wouldn't have the chance to do so.
"There is something for everyone and the events not only serve the purpose to build to Red and White Night [March 25]," said senior relaunch team member Eli Booth. "but also to allow students to gain points for their respective teams while having a fun time doing so."
Furthermore, to get involved, all students have to do is go on their flextime and schedule themselves to participate in the events that catch their interest. 
The Holly Spirit attended the first event that opened up tutorial games which was Mario Kart. D207 was packed at 7:30 AM with students from every grade and each team.
"It was a good idea, everyone was a good sport and it brought some competitive players, casual players, and some spectators," said senior Bridgette Diaz.
The red team came out on top, receiving the point for the event. 
Make sure to follow the relaunch team's Instagram, as most of the updates are posted there. The relaunch team urges everyone to get involved and reach out with any questions as the event draws closer.